Etinastro proposes Paper Test, the innovative tester for fragrances, a fundamental tool for manufacturers and perfumery chains. View the details!
Fragrance testers are fundamental tools for manufacturers but also for perfumery chains that intend to propose fragrances to their Customers. 
Etinastro's latest tool is the Paper Test, the fragrance testers with packaging and exclusive characteristics that are totally unique on the market.
The new promotional tester, in fact, thanks to the integrated innovative technology and high quality workmanship, is a powerful ally for any winning marketing strategy. 
Discover all the details on the new fragrance tester developed by the Etinasto experts, continue to read our news!
What is the Paper Test and why it is the champion for fragrances of the future
Paper test, Etinastro's brand new fragrance tester tool, is a truly innovative olfactory experience. 
The integrated technology of the tester, in fact, allows users to remove the tester from the loader and renew the olfactory experience for a considerable length of time in a neutral environment, for an intense and lasting effect.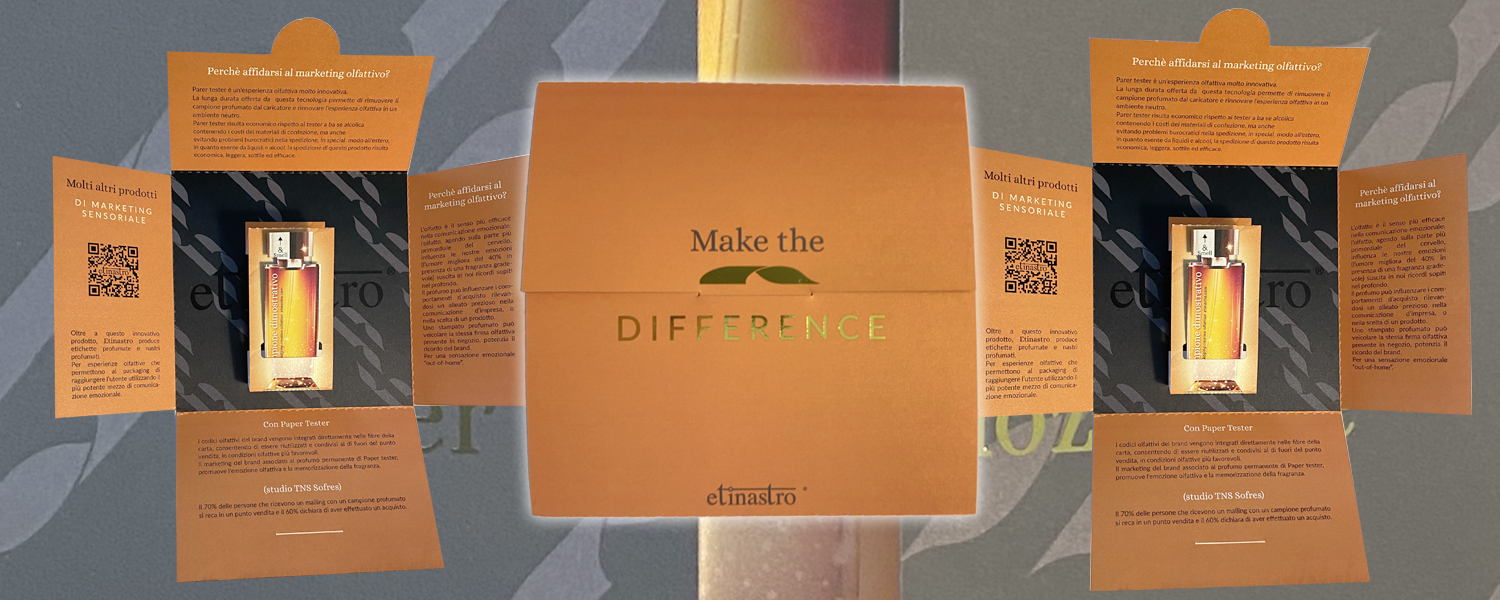 Compared to the other testers for alcohol-based fragrances on the market, Paper Test, thanks to the reduced packaging costs, is economical and avoids set-backs related to shipments, especially abroad. 
They are free from liquids and alcohol, therefore, shipments of this product are economical, light and effective.
All the advantages of olfactory marketing
Paper Test is a perfect solution for a winning olfactory marketing campaign, especially for the various leader players in the industry. 
Smell, in fact, is the most involved sense in emotional communication, impacting the most primordial part of the human brain and recalling pleasant memories. 
Fragrances, moreover, also influence buying behaviour: using Etinatro's new fragrance tester tool, you can convey the olfactory signature in your store, hence enhancing the memory of the brand. 
The result is a strategic "out of home" emotional sensation to promote fragrances and your product values. 
Olfactory marketing works, and the TNS Sofres study says so
Olfactory marketing tools are truly effective tools for promoting your brand, and this concept is reiterated in a study conducted by the prestigious American enterprise TNS Sofres. 
The company, specialised in organising marketing research and opinion polls, has in fact discovered that 70% of individuals who receive a fragrance tester visits the point of sale and 60% confirm they made a purchase. 
These data confirm the incredible potential of the brand new Paper Test, the promotional tester to get your fragrance…and your business off the ground!
Request a no obligation quote now to develop your own bespoke fragrance tester!